Testimonials
Photos of Frontier Retriever puppies and
adult dogs with their owners.
You are invited to share your photos,
stories, and accomplishments.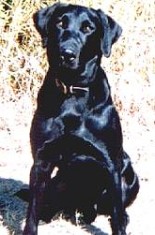 Frontier's Salt Water Rocky
In Memory - 1997-2007
Derby List, Qualified All Age,
Open All-Age Placements
Owned by Marty Stewart, Texas
---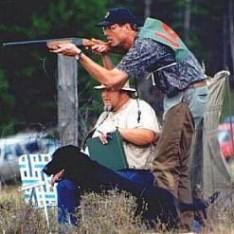 Heil's Baron Jager MH
Qualified for 1997, 1999, 2001, 2003
AKC Master National
In Memory - 3-21-93 to 9-30-03
Owned by Ed and Jean Heil, Colorado
---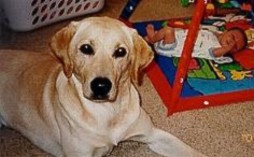 Stanley
FC-AFC Rebel With A Cause X Hillview's Echo
Doug wrote, "As far as dogs go, he is rapidly becoming my favorite dog of all time. He is also becoming quite fond of our newest addition to the family, as you can see by the attached picture. His drive and desire are phenomenal, as is his desire to please."
Owned by Doug Woodard, California
---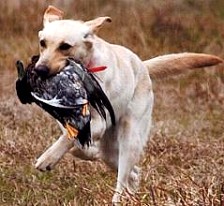 Frontier's Rebel Causing Concern MH

Qualified for 2005 Master National
(FC-AFC Rebel With A Cause X Hillview's Echo)
Owned by Scott McGaw, Alabama
---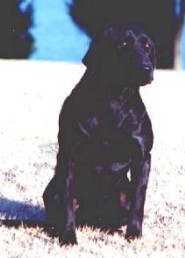 Red Rock's Ridge Runner MH
In limited field trialing as a Derby dog, he earned a 3rd, 4th, and 2 JAM's in 5 Derbies.
Owned by Mark Lasater, Oklahoma
---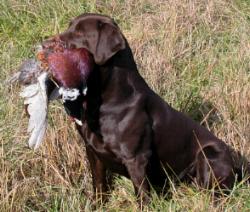 Ty

Qualified for the 2003 Master National
(Frontier Deez III X The Money MH)
In Memory 1998 – 2004

Owned by Dee Jarosz, Nebraska
---


Rebel's Prize Dillon
FC-AFC Rebel With A Cause X Hillview's Echo
"I was taking photos of Dillon over the weekend and couldn't decide which to send you so I sent them all! He continues to be the most athletic and energetic dog we've ever seen...he loves to go hunting and retrieve, swim, run, play, hike, jump through the snow when we go to Colorado...you name it, he's game. And he's oh so sweet with lots of personality. He's very good in the house too!"
Owned by Dr. Dale and Eleanor Brown, Texas
---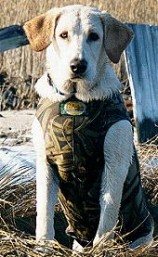 Salt Water Harry
FC-AFC Rebel With A Cause X Hillview's Echo
"Just wanted to say Hi. Happy New Year, and tell you that Harry is having loads of fun these days, duck hunting. He is doing very well, and I am enjoying him more than ever! The other day in the marsh, he came back with a LIVE bunker in his mouth (that's a fish)! I wish I lived in Louisiana where we could shoot more ducks, he never has enough action. Nice to see Harry still in the Scrapbook!" (Jan 2002)
Owned by Chris White, New York
---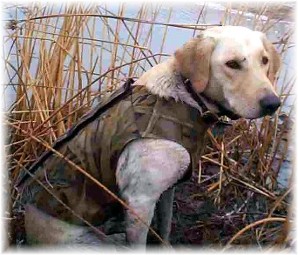 Mamie
FC-AFC Rebel With A Cause X Hillview's Echo
"Mamie and I went to Manitoba during October and, despite the dry weather, had a great week with friends from Maryland, Virginia and Texas. Weather ranged from 25 to 75 degrees and we hunted ducks in Birch encircled beaver ponds, large prairie potholes and large established marsh lakes. Mamie retrieved many greenheads, widgeon, snow geese, and even a couple of canvasbacks. We also attempted some upland hunting and did get some sharptail grouse. Overall a great hunt but on the final day of hunting she jumped into the lake to retrieve a greenhead and cut her stomach on a hidden boulder. She yelped, I called her back to heel, I inspected and saw nothing, and then she went back out and completed the 75 yard retrieve perfectly. Very little bleeding but we still visited the local vet and received 4 stitches. Season's open again in Texas and we've been out a couple times already. She also retrieved many dove during September." (Nov. 2003)
Owned by Bob Gray, Texas
---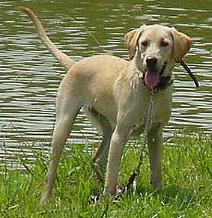 Di
FC-AFC Rebel With A Cause X Hillview's Echo
"Just wanted to report Di's progress at 7 months. She has been in training for the last 4 weeks at Pecan Kennels in Brookshire, Texas. She has been working with retrieving live birds, cap pistols, shotguns and the electric collar. She thinks she's at summer camp and is having a ball, you can see the smile on her face. The Trainer says she is the best young pup he has to work with, but when I showed him her pedigree Friday he said it makes sense. Needless to say we are very pleased with Di and are looking forward to many rewarding years both in and out of the field. Thanks for all you have done." (June 2002)
Owned by Stuart and Frankie Smith, Texas
---