Thought you may enjoy a few pictures of my Frontier Oklahoma Resq Rebel. He is doing well, maturing and making advances in his work all the time. This spring we will be certifying thought the PA Dept of Conservation and Natural Resources (PA DCNR) as a K9 Airscenting Specialist Team. We will also be investigating FEMA certifications in the near future, these will include urban and cadaver work. The photo of Okie in his vest (
top of page
) is from just this month, march 2005, of he and I is from spring of 2004 approx 6 months old, and the alert is at approx 1 year old, fall of 2004.
---
Last week Okie and I attended a training seminar with internationally acclaimed dog trainer, Suzanne Clothier. She has authored several books her most recent one is "If dogs prayers were answered, Bones would rain from the sky", perhaps you have read it or heard of it.

It was a fascinating seminar, and I took a lot of techniques away from that day. Having a soft spot for search dogs, Suzanne worked with Okie and I on a few issues we were needing to correct... certainly nothing major. As we worked Suzanne admitted that Labradors had not been her favorite breed of late, but that Okie was a highly intelligent animal, with a beautiful temperament and stability. "I would take him home today" she said, but was sure it would be over my dead body!! Of that she was correct!!

Okie sure is a fine representative of Frontier Kennels here on the East Coast!! Hope you and your Rebel are enjoying much success this season as well.
---
Just thought I would drop you a line to update you on all the news Okie and I have to share. At the end of August Okie passed his Canine Good Citizen test, the minimum obedience requirement for Search and Rescue dogs... of course he passed it easily... his obedience has really come along in the last month or so.

We just got back from the Tristate SAR conference (NJ, NY ,PA). Oklahoma, at only 11 months old, and I challenged the NASAR (Nat. Assoc. for Search and Rescue) Canine SARTECH III airscenting dog certification and passed. Okie is now a nationally recognized SAR dog!!

In recent weeks, we have also began to revisit HRD (Human Remains Detection), Okie seems to enjoy this work as well and is advancing nicely.

It seems there is no job I can ask this dog to do that he does not joyfully undertake. Okie gives 200% of himself in every thing he does, he passes all distraction while he is working and he commits to finishing any task he is given. I have received many compliments from seasoned veterans in the Search world on the fine qualities this dog possess. We certainly have more work ahead of us, but I really looks forward to a long and very successful partnership with my Okie!!
---
Just thought I would drop you a quick line to let you know how the pup is doing. AKC name, Frontier Oklahoma Resq Rebel... our "little yellow dog, Okie" is not so little anymore. He had his 5 month birthday a couple days ago and weighs in at a lanky 47lbs.

He is calm, cool and collected; with an outstanding work ethic for a pup. He has begun working on complex adult search problems already. He quarters with determination and covers ground quickly and methodically. He has never missed the location of a subject so far. I'm sure you are not surprised!! He has also begun cadaver detection work, learning to recognize and mark the location of the scent.

He will attend his first Search and Rescue Expo at the end of April, where we hope to begin learning high line rope work together and water detection work. We also will complete his K9 GC, the minimum obedience for SAR dogs.I could not ask for a better partner...he makes training fun and exciting!! The photo attached shows Okie winding up for a FIND send out with or K9 team leader.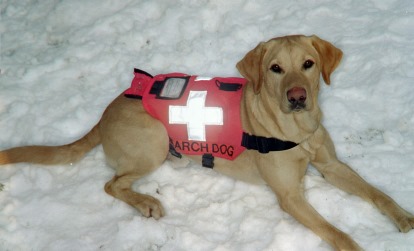 ---