HRCH Frontier's Cherokee Rebel MH
5-9-2000 to 12-6-2011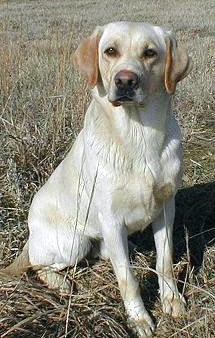 HRCH Frontier's Cherokee Rebel MH was bred by Frontier Retrievers and is sired by Field Champion-Amateur Field Champion (FC-AFC) Rebel With A Cause. In addition to earning UKC's Hunting Retriever Champion title and AKC's Master Hunter title,  Rebel also qualified for the Master National Champion stakes in 2006 in California, and was a finalist.
Rebel has a very even, light to medium yellow color. He has a nice head, chest, and coat. He is the ultimate housedog.; He will relax and sleep when in his crate between series and training tests. In the field, he is a high-energy dog with unlimited desire, but still very tractable and easy to run.
My Rebel's Pedigree contains Twenty Field Champions(FC), Amateur Field Champion (AFC), National Amateur Field Champion (NAFC), National Field Champion (NFC), Canadian National Field Champion (CNFC) titles in the first four generations in addition to the strongest producing bitch lines in North America.
Rebel's sire is FC-AFC Rebel With a Cause; 10 Open Wins and 13 All-Age Wins, and was the top Open Yellow for 2001.  FC-AFC Rebel amassed 56 open points and 78-1/2 all-age points, and was the top open yellow in wins three years in a row, and in points two years in a row; sire of FC-AFC, Winners in Open, Amateur, Qualifying, Derby, and progeny successful in AKC and UKC Hunt Tests, Pointing, Agility, Obedience, Drug Detection, Bomb Detection, Search and Rescue.
OFA Hips: OFA LR-125392G25M-PI
OFA Elbows: OFA LR-EL16488M25-PI
Eyes: CERF LR-33008-2010-117

Centranuclear Myopathy Cleared: LR-CNM05-060-M-PIV
Exercise Induced Collapse Cleared:  LR-EIC210/100M-VPI
 CHIC #11489
DNA Profile #V394328
Weight: 80 pounds
Rebel has been certified to be clear of the CNM (myopathy) gene by the DNA test
and also certified clear of Exercise Induced Collapse (EIC)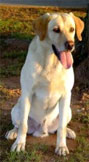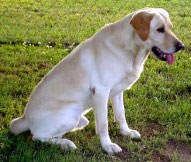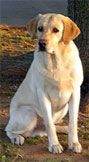 Rebel's Master National Photos are
copyright Steve Southard Photography