Boykin Spaniel Puppies

Whelped 8-18-10

Clouds Rest Copper X Carolina Magic Frontier Scarlet
Clouds Rest Copper
Birthdate: 6-23-2005
Hips OFA BY-1262G24M

Eyes ACVO Clear

 OFA Cardiac BY-CA278/24M/C
35 pounds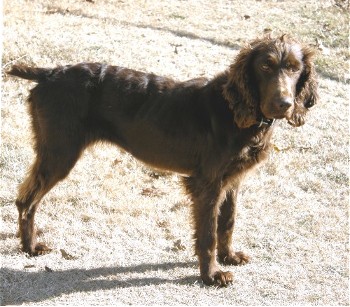 Carolina Magic Frontier Scarlet

Birthdate:12-14-2005
Hips OFA BY-1319E25F (Excellent)
Eyes CERF LR-BYS-679
OFA Cardiac BY-CA315/30F/C-VPI Clear
OFA EIC6/51F-VPI (EIC Clear)

35 pounds
 ALL PUPS HAVE GONE TO THEIR NEW HOMES
Pups are raised in a whelping room located within the home offering stablity to the dam and allow maximum early neurologic stimulation (ENS) to the pups. 
Because we only have one or two litters every year, our puppies get a lot of attention. 
Vet-checked twice, microchip, 2 series of shots appropriate for age, CERF exam on entire litter.
Both sire and dam have been DNA tested for Exercise Induced Collapse (EIC) by the University of Minnesota Diagnostic Lab.   No pups from this breeding will be "affected" with EIC.   
Complete the Puppy Buyer Form and call (405) 381-3417 if you are interested in more future Boykin litters.